Wildlife Exclusion Specialists
Ultra Safe provides comprehensive Wildlife Control Services for problem animals and rodent pests. A key feature of our integrated approach involves 'Wildlife Exclusion', also known as pest or rodent-proofing services.
Excluding wildlife from a structure, requires a full understanding of the wildlife species present, general building construction repair and the specialized tools, equipment and materials, needed to perform successful Wildlife Exclusion.
Wildlife & Rodent Exclusion Methods
"Like It Never Happened"
Wildlife Exclusion methods include, closing off openings and existing gaps around roof-line, attics, trim boards, dormers, under porches, foundations and other areas of homes and buildings. Capping off chimneys and vents with an animal proof cap or cover is also a great method of wildlife exclusion.
Only qualified professionals who are properly licensed & trained in wildlife control should attempt to handle, trap or exclude wildlife from a home or commercial building. If done incorrectly, severe damage and an increased risk of human wildlife conflict may occur if an animal is accidentally blocked or trapped inside a building during the sealing up process.
Proper eviction devices such as one-way doors, traps, bat cones and similar equipment, MUST be correctly installed prior to sealing the entry points and rodent proofing any structure.
Wildlife Exclusion Materials
Sheet Metal / Trim Fabrication
Chimney Cap & Vent Cover Installation
Fitted Screens & Enclosures
Sealing and Caulking gaps and crevices
Heavy duty woven-mesh
Animal / Bird Netting
Rodent-Proof Metal & Fabrics
Wildlife Damage Repair Materials
Animal Fencing around gardens & food sources
Rodent-Proof Door Sweeps
Rodent-Proof Door Sweep Installers
Bat Exclusion Specialists On-Site
Bat exclusion or "bat-proofing" a home or building can be a tedious job. It will often require tall ladders and specialized tools and equipment. Ultra-Safe bat specialists install one-way doors, bat cones and other bat exclusion devices to allow the bats to exit. We are also equipped to physically remove bats if necessary.
The exclusion work is ideally done during the month of May or from August 1 through mid-October. Depending on the species, this is when most bats will have raised their young or will have left the area to hibernate.
Performing a bat exclusion at the wrong time, can drive the bats into occupied areas or create additional problems if bats get trapped and die within the walls of a structure.
For long-term bat prevention, after bats have exited or been removed, all entry points, gaps and holes 5/8 of an inch or larger will need to be permanently sealed.
Our bat specialists are trained to determine the best approach to take for each individual project.
Ultra Safe Pest Management is a properly Licensed and Certified Wildlife Control Company. We do NOT subcontract work. All wildlife work is backed by our full-service warranty.
Contact our Certified Bat Exclusion Professionals!
Wildlife Damage Repair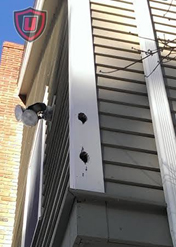 Ultra Safe Pests' Rodent and wildlife professionals are equipped to repair many types of wildlife related damage.
Speak with a wildlife professional Today!