Ultra Safe Pest Wins HomeAdvisor Award For Best Pest Control in Massachusetts!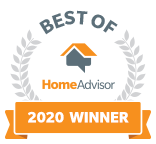 "The Best of HomeAdvisor winners are among the highest rated service professionals in the HomeAdvisor network," said Chris Terrill, CEO for HomeAdvisor.  "Professionals who receive this prestigious award should be proud and honored as they truly represent the exceptional quality of the HomeAdvisor network."
To be eligible for the Best of HomeAdvisor Award, professionals must be in the HomeAdvisor network for six months or longer with an average rating score of 4.0. HomeAdvisor rating is on a scale of 1-5 and ratings and reviews can only be submitted by homeowners who have been referred to that professional by HomeAdvisor. To be included in the HomeAdvisor network, service professionals undergo comprehensive criminal and financial background checks.